So, it's now February and b4 we know it the wedding date will be here. It's been a roller coaster ride since that day up in the hot air balloon where he proposed to me. Full of


and

Hopefully, from here on out it will be smooth sailing, and the wedding will be just as planned...

We did a lot of brainstorming b4 we agreed on the location of the wedding. We compromised b/t a big New York wedding (his idea) and going away to get married in the Bahamas (my idea)....and came up w/ a small and intimate beach wedding in Ocean City, Maryland.
The item that took the most time to buy was the wedding dress. I looked through magazines, brochures, and e bay. Then we went to stores in Maryland, Delaware, and New York. Here are some of the dresses that I've tried on: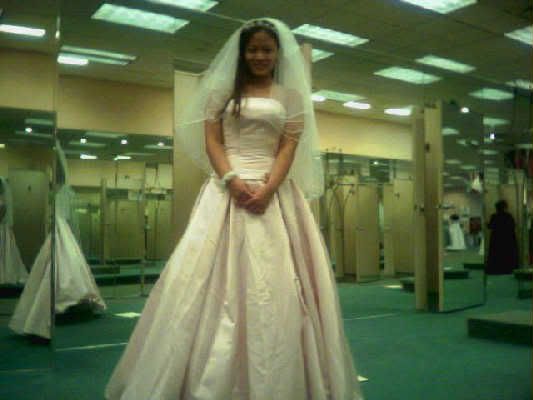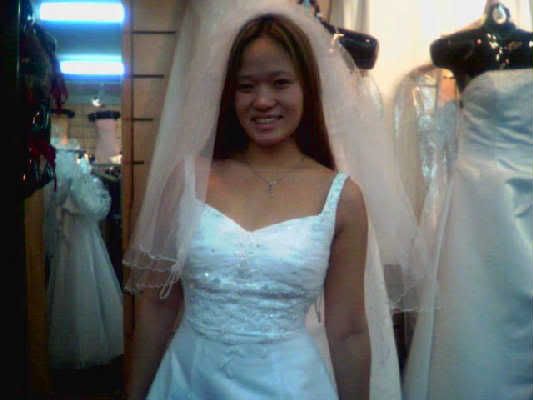 And this is the one we both decided on, since the roses on it goes well w/ the whole beach theme...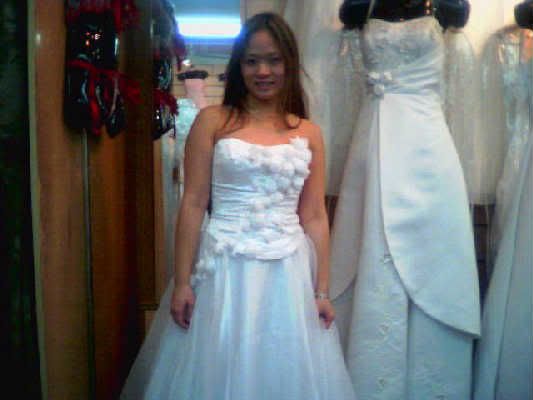 The shoes were pretty easy though, I saw it and just knew it was the one...


For my hair, I'm going w/ some soft curls w/ a veil and a flower comb from the florist that's going to match w/ my cascading pink and white roses.
As for the dress I'm going to wear at the reception, it's going to be a pink sequenced-top dress...
Dinner reception will be @ Sunset Grille... a seafood restaurant w/ a nice waterfront view. The menu will be quesadillas for appetizers, and the main entrees will be 2 crab cakes, 2 tempura lobster tails, and 2 broiled lobster tails. The dessert will be this wedding cake (but w/ a third layer).

Now I just need to go buy a nice purse & a dress slip. As well as a traditional vietnamese dress (ao dai). Also, I have to con't w/ my diet plan. Studio pictures are coming up on Feb 12. I've already lost 19 lbs so far, but I would still like to lose another 3 lbs for the studio pix. Then I'd like to lose another 5 - 10 lbs for the wedding day.

We got our apt last week. So from now until the wedding our biggest task is moving. We're getting a Uhaul next week 4 moving the big stuff from my house. Thereafter, we'll move my stuff one carload @ a time. Also, gotta do much cleaning, shopping, and organizing. Gonna be fun!
Now, let's all pray for good weather on March 26, 2006...that way it will be sunny and warm w/ a cool slight breeze while we say our "I Do's"...